Next Business Meeting
Next business meeting will be held at the Checker Board Restaurant on Saturday, October 2nd, 2010. Come join us for breakfast, coffee and fellowship.

2-meter ARES Net
The weekly 2-meter ARES net is held each Tuesday night at 7:00pm on the W5FQ repeater 146.70 (-) no PL at present.
The net is called the MAEN net (Meridian Area Emergency Net) and is the only official weekly 2-meter ARES net in the Lauderdale-Clarke Counties Area.
It is important for all ARES members (non-ARES members are also invited and encouraged) to check into the net as frequently as possible. This helps ARES gauge how many Hams are active on 2-meters in this area, and potentially, if our services are needed. Please mark your calendars or set you alarms for this net.
For those of you we missed on the 2-meter net September 7th and as a reminder to those who did make it, on the 1st Tuesday of each month we will conduct our net on 146.520MHz (simplex). In that no repeaters will be used it is very important for all to listen and assist with relays for check-in of stations not heard by NCS (Net Control Station). All other scheduled Tuesday night nets will be as usual.
On the 5th of October, I will call the net from my house. My beam will be pointed in a general direction of WSW (from about 7 miles east of Lauderdale) in the hopes that I will hear the majority of those trying to check in. If you hear a station that is not acknowledged by NCS respond with "relay" followed by your call sign. Wait to be acknowledged by the NCS and then relay the station you hear. The NCS may call on stations throughout the area to put out a call for check-ins for those that may not even hear the NCS.
It has been a while since we have heard from some of you. If you are having equipment problems, let us know so that we might be able to try to assist making repairs. If being Mic shy is the problem.... monitor a few times so that you can get the feel for how we do things and then jump in there and get your feet wet. If you have questions or concerns e-mail me (metoyik1@bellsouth.net) and I'll do my best to help out or direct some help to you. Look forward to hearing you on the air!
73' Rick, AE5FE

The Man Who Plays The Game
The credit in life does not go to the critic who stands on the sideline and points out where the strong stumble, but rather, the real credit in life goes to the man who is actually in the arena, whose face may get marred by sweat and dust, who knows great enthusiasm and great devotion and learns to spend himself in a worthy cause. Who at best if he wins, knows the thrill of high achievement and if he fails, at least fails while daring greatly, so that in his life his place will never be with those very cold and timid souls who know neither victory nor defeat. (Anonymous Sender)

One of the Dumbest Things I've Ever Done in Ham Radio
By Dan Romanchik, KB6NU
Mark, W8MP, and I often argue about what's dumber-his county hunting or my collecting QSL cards from stations whose call signs spell words. It's one of those arguments that will never be won. When you get right down to it, they're both pretty dumb.
Well, one Wednesday morning, I got a call from Mark. He asked, "Hey, want to do something really dumb tonight?" When I asked what he had in mind, he replied, "Well, one of my county hunter friends, Tim, W8JJ (he's the guy looking nervous in the black cap below), claims to have confirmed all 3,077 counties. He needs at least two General Class (or higher) hams to check his QSL cards and sign off on his application for the USA-CA award sponsored by CQ magazine. I guarantee that this will be one of the dumbest things that you ever do in ham radio. I also guarantee that it will be a lot of fun."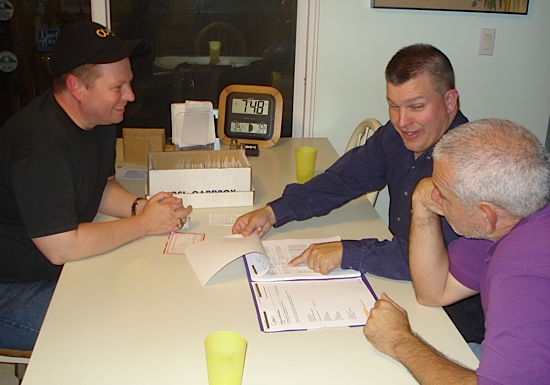 After a fine salmon dinner with some very chewy noodles (that Mark claims his son, KD8EEH insisted that he make), we cleared the table, and Tim got out his box of cards. Mark then explained how we should proceed. I was kind of curious about this, as it's clearly impossible to check all 3,077 QSOs in a single evening.
Basically, what the two checkers are supposed to do is to check random contacts until they are satisfied that the applicant does indeed have a QSL from all 3,077 counties. To select the contacts, you might choose counties where you lived, or counties that you have visited. I hit on the idea of having Tim produced the confirmations of all 16 counties in Massachusetts. Clark, who is more familiar with which counties are the most difficult to confirm, asked Tim to produce cards from some rare counties in Colorado and Hawaii.
Above all, though, the idea is to give the applicant as much grief as possible during the process.
Mark came up with the idea of calling several county hunters that he had phone numbers for and asking them to verify in their logs some of the QSOs that Tim was claiming. He first phoned Jim, N9JF, and we asked him about a 44 report that he'd given Tim seven years ago. He wasn't near his logbook, but he said that he did remember that contact and even rattled off the county (Wahkiakum, WA)!
Next, Mark phoned Guff, KS5A, who confirmed a contact, but was off by almost seven minutes. A long discussion ensued regarding the details of how a mobile logs contacts while out driving. In the end, we accepted the seven-minute discrepancy.
Finally, Mark phoned Larry, W0QE, to confirm a few of the MRCs that Tim had from him. (MRCs are records of multiple contacts. Using them instead of QSL cards makes the process of managing all these QSLs a lot easier). Mark joked that it looked like one of the MRCs had a forged signature. Larry replied that all of his MRCs are stamped.
"Aha," Clark exclaimed, "this MRC doesn't have a stamp!"
I don't know what was going through Tim's mind at this point, but it probably wasn't good. Larry then explained that he probably sent out that MRC before he got the stamp. When we confirmed those dates, I think Tim breathed a little easier.
In the end, Clark and I signed off on Tim's application. And, even though Mark and I joke about how dumb this activity is, it's really only a joke. In my mind, it's quite an achievement. It takes a lot of persistence, too. It took Tim nearly ten years to do it.
Another cool thing about the county hunting sub-culture is the camaraderie amongst the county hunters. It's the nature of the beast that you'll be contacting many of them multiple times, and it's inevitable that you'll make friends with many of them.
As we were leaving, Tim said, "My wife asked me the other day if I could get now get rid of all my radios since I've talked to everybody." She obviously doesn't understand this ham radio sub-culture. Tim's only just begun.
-------------

You can keep up with all of Dan's dumb ham radio activities by reading his blog at www.kb6nu.com. When Dan's not doing dumb ham radio things, he programs websites and does community-service type stuff as a member of the Ann Arbor (MI, USA) Rotary Club. You can email him at cwgeek@kb6nu.com.