Next business meeting will be held at the Checker Board Restaurant on Saturday, January 8th, 2011. Come join us for breakfast, coffee and fellowship. This is your amateur radio club; Please help to make it all that it can be. Hope to see you there.

Treasurer Report
Membership dues have already starting flowing in for the New Year. Thank you for your support. Please bring your dues to the Checker Board Restaurant on Saturday mornings or mail them to the address below. Dues are:
$23.00 per Year per Member
$25.00 per Year for Family
$15.00 per year if 65 or older
MARC c/o Debbie Hover
11785 Nancy Drive
Collinsville, MS 39325

Meridian W5YI VE Team Report
On December 4, 2010, the Meridian W5YI VE Team was invited to participate in the Meridian, MS. Air National Guard Family Day festivities.
The team, whose present members are all retired military, was eager to participate for a number of reasons. One, we wanted to thank those members of the units at this base who have supported our conflicts in Afghanistan and Iraq. The base is home to a fleet of air refueling tankers and they have flown many missions in support of those two conflicts. Most of all we wanted to thank the family members for supporting the air crews and others during their extended deployments. As for our Ham Radio demonstration, we wanted to show the kids of the families that there are ways to communicate other than by cell phone or the Internet, and we wanted to demonstrate to the military personnel the capabilities of a small, properly trained communications group.
We accomplished both of these goals. Our station was a bare bones sound card digital station. We operated off the generator we provided, we set up a portable antenna, and we were self-contained. We set up the station in about 30 minutes from start to on-the-air. We pointed out to our visitors that all of our equipment arrived in one small pick-up truck. We stressed that, if needed in an emergency, we could provide the capability of handling large volumes of message traffic without the Internet by using any of the many sound card digital modes available to Hams today. We would like to thank Connie Myers, Airmen and Family Readiness Programs Manager, 186th Air Refueling Wing, Mississippi Air National Guard for the invitation and we hope we will be invited back next year.
Elton Richardson W4IOS
W5YI VE Team Leader
Other team members participating:
Albert McDonald, WV1Q
Fred Gray, W5VZK
Rick Morefield, AE5FE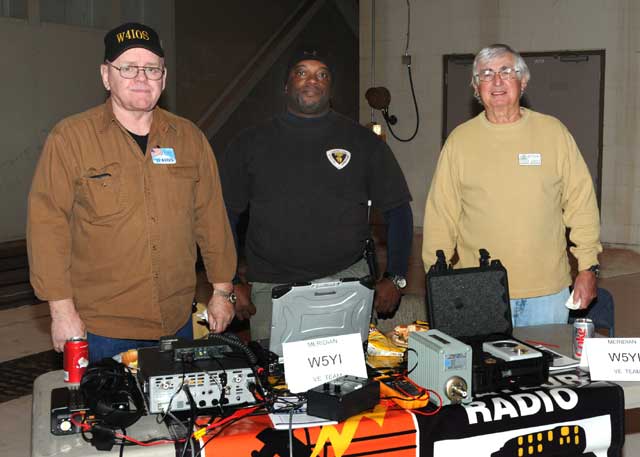 Meridian W5YI-VE Test Results
The results from last nights Meridian W5YI-VE test session:
One (1) new Technician Class Operator: Cynthia James of Laurel, MS
Two (2) new upgrades to Amateur Extra Class Operator: Benny G. Merrell, KF5FWG of Heidelberg, MS and Jeffery L. Zachry, KM5MH of Meridian, MS

NOTICE
New Hams and Old Hams…. Are you stuck in a rut with your ham radio operations? Are you tired of listening to the same old repeater with no one to talk to? Are you a Technician who can't work the HF bands? Are you a General Class with no HF gear or antennas? Well, we have something for you that will revitalize your ham radio activity and make the hobby much more enjoyable for you.
PLEASE ATTEND THE W5YI VE GROUP REVITALIZATION SEMINAR
To be held at 7:00 PM, Friday, February 11, 2011 at the EMEPA Auditorium, 2128 Hwy 39N, Meridian, MS 39301.
For more information please contact
W4IOS
Eldon Richardson
601-604-2063
eldon.richardson@att.net

NO ONE IS LISTENING
In the early days of the development of the telegraph, one of the first advances made was the invention of a machine that would send and receive the Telegraph codes thereby increasing accuracy and speed and eliminating operator error when sending messages. When the ability to send and receive Morse Code by radio was invented, radio teletype was developed. This further increased the speed and accuracy of sending messages across the country and around the world. When Sitor (known as Amtor in the Ham world) was developed, the merchant marine industry immediately converted to this digital mode.
Today we have computers, the Internet, and for Hams, the "digital modes" of Packet, Pactor, as well as the older RTTY and the newer sound card modes. Why, if during the advances of methods of communicating, when machines were deemed necessary for the efficient movement of message traffic, do we hams in Mississippi still insist on supporting voice communications as the preferred method of traffic handling?
History has proven "YOU CAN'T HANDLE A LARGE VOLUME OF MESSAGE TRAFFIC VIA VOICE"!
A number of digital forums have been given since Katrina. An attempt was made to establish a state wide VHF packet network.
An 80 meter digital net has been in operation for over a year. All these efforts have been failures. The hams in Mississippi are not listening. Not only are the hams in Mississippi not listening but it says volumes about the attitude of our leaders when they will sit through a 15 minute presentation on Search and Rescue and then not attend a 9 minute presentation on digital.
YOU CAN'T HANDLE LARGE VOLUMES OF MESSAGE TRAFFIC BY VOICE!
Why may we need to handle large volumes of traffic?
Hurricanes: Katrina demonstrated the need for emergency communications for an extended period of time.
Tornados: Which damage a large geographical area.
Earthquakes: You are smiling? You should not be. Read the most recent information on these web sites:
http://www.emforum.org/vforum/CUSEC/NMSZEarthquakePlanning.pdf
http://www.fema.gov/privatesector/take_action.shtm#1
Internet outages: There are those who say the Internet will never fail. Read about the latest virus called Stuxnet. And read the news about the web hackers "anonymous" who are attempting shut down Master Card and Amazon because of their actions against Wikileaks. Also consider that on a normal day our power grid computers in this country receive over 10,000 hacking attempts. What would happen if one entire section of the country lost power?
The reason we as amateurs are allowed to hold an Amateur Radio Operators License is we agree we will provide a communication service to the general public if necessary. By not being as prepared as possible, we amateurs in Mississippi are not fulfilling our obligations. Why? I can't answer that question. I have been searching for an answer for 5 years. If it took a degree in electrical engineering to set up a digital station, I would understand. But it does not. It is simple and easy. All it takes is a computer, (with speaker output and Mic input) and a Handi Talkie or HF radio. These items most of us already have.
So, given the potential for disasters which could affect our state, why does the Amateur Community in Mississippi not have an adequate digital traffic network? I don't have a clue.
Fred, W5VZK

Cajun Advanced Picosatellite Experiment
The CAPE (Cajun Advanced Picosatellite Experiment) team of the University of LA at Lafayette plans to launch another balloon on Saturday, December 18, 2010 at approximately 8:30 AM from the Lake Charles weather station, weather permitting. A "go /no go" decision will be made Friday afternoon and around 6:30 AM Saturday morning and a launch decision will be distributed via e-mail.
The APRS call sign will be KE5YVM-11 on the frequency of 144.390 MHz with the data and command frequency of 435.00 MHz using the call sign W5UL.
We will be using Echolink repeaters on the Lafayette, Lake Charles, Morgan City, Baton Rouge and some other repeaters for communications. The repeater frequencies will be sent in a future e-mail.
The CAPE web site is: http://ulcape.org/
Thanks
Nick Pugh K5QXJ
Office: 337-593-8700
Cell: 337-258-2527