Isaiah 54:17: "No weapon that is formed against thee shall prosper; and every tongue that shall rise against thee in judgment thou shalt condemn. This is the heritage of the servants of Jehovah, and their righteousness which is of me, saith Jehovah." ASV
Whew! Where did the year go? Here we are looking at 2018 and things are moving fast forward. Happy New Year!
Thank you everyone who made it to the Christmas party / meeting, we had a great time, but we forgot to nominate the 2018 staff. We can hold a special meeting on the repeater or if you like we can email in our nominations. I would like to be able to vote on them at the January meeting but if you would like to hold it till the February meeting just send in an email stating that you would like to make your nomination at the next meeting.
Hopefully this year we will have some test dates and classes, if you are interested in helping with this please let us know what you would like to do and we will find a spot for you.
Over the past Twelve Months we had 44 Net Calls with 464 Check Ins. We lost two good Local Hams, Mel Oubre W5MLO and Doug Brown N5FKP. January is just a few days off and the Jackson Ham Fest will be here in no time. I hope and pray everyone will have a Safe 2018.

Treasurer Report
It's that time again; Please bring your dues to the Checker Board Restaurant on Saturday mornings or mail them to the address below. Thank you for your support. Dues are:
$23.00 per Year per Member
$25.00 per Year for Family
$15.00 per year if 65 or older
Meridian Amateur Radio Club
P.O. Box 522
Meridian, MS 39302

Capital City Hamfest - Jackson, MS
Jackson MS Trademart
1207 Mississippi Street
Jackson, MS 39202
Talk-in Repeater Frequency: 146.16/76 NO Tone Backup 146.34/94 NO Tone
FRI JAN 26, 2018 5:00PM - 8:00PM and SAT JAN 27, 2018 8:00AM - 3:30PM
Hamfest admission is $10.00, includes 1 FREE door prize ticket. Ages 12 and under Admission is FREE.
For questions Please email: Gary Young at k5gcy@att.net or hamfest@msham.org

DIGITAL S. E. T. USING BPQ BBS NETWORK UPDATE
DRILL
FM: KB5ROZ
TO: ALL BPQ BBS NETWORK USERS AT: WU0G AE5ME KB5ROZ AD5O
SUBJ: UPCOMING DIGITAL COMMUNICATIONS EXERCISE USING THE BPQ BBS NETWORK
DATE: BEGIN: 0800 LT JAN 11, 2018 END: 1600 LT JAN 14, 2018
SITUATION: EARTHQUAKE, NEW MADRID SEISMIC ZONE REF: http://info.publicintelligence.net/FEMA-NLE2011-AAR.pdf
ALL CURRENT BPQ BBS USERS ARE ENCOURAGED TO PARTICIPATE. FUTURE USERS ARE CERTAINLY WELCOME.
ALL USERS CONSIDERING PARTICPATION SHOULD REVIEW THEIR RMS EXPRESS FORMS PRIOR TO THE EXERCISE TO BE SURE YOU HAVE THE LATEST VERSION.
AMERICAN RED CROSS WILL BE SIMULATED BY DOUG, KF5WXF, KF5WXF@KC5OAS
NATIONAL WEATHER SERVICE WILL BE SIMULATED BY BOB, N5MFI. N5MFI@KC5OAS
MARS WILL BE SIMULATED BY STEPHAN, K5SRL. A CUSTOM FORM WILL BE PROVIDED. K5SRL@AE5ME
RED CROSS SHELTER, MADISON, MS., WILL BE SIMULATED BY MARK, W5DIX.
AS WITH ALL COMMUNICATIONS EXERCISES, YOUR MESSAGES SHOULD BEGIN AND END WITH THE WORD "DRILL".
IF YOU HAVE ANY QUESTIONS ABOUT HOW TO USE THE FORMS IN RMS EXPRESS PLEASE CONTACT YOUR BBS SYSOP.
MORE LATER
BRUCE KB5ROZ@KC5OAS
DRILL

NASA ON THE AIR
Amateur Radio Special Event
2018 is a big year for NASA anniversaries and we'd like for you to help us celebrate. NASA was created in 1958, the first manned lunar mission was in 1968, and the first elements of the International Space Station (ISS) were launched in 1998. The club stations at the various NASA centers and facilities plan to be on the air with special events to celebrate these milestones and some may be offering commemorative QSL cards.
There will be a special certificate indicating how many centers you worked on various bands and modes that may be downloaded. QSL instructions are available on the QRZ.COM site for each individual club station. We have a web-based system for you to check your points total and download a certificate at the end of the event in December 2018. Visit the Scores section for a link to that system. Points will be awarded for each center worked on each band and mode (phone, CW, digital).
The event will run from December 2017 through December 2018. Note that any contact with a NASA club station during the full time frame will count toward your points total. More information: https://nasaontheair.wordpress.com/

W1AW to begin scheduled transmissions on 6 meters starting January 2, 2018
For everyone interested in 6 meters, and in case y'all don't get the ARRL Bulletins, here is a good one to know about.
73, Charlie WA5WUX
To all radio amateurs: SB QST ARL ARLB024 ARLB024
Beginning with the 9 AM EST fast code practice on Tuesday, January 2, 2018, W1AW will add 6 meters - specifically 50350 kHz - to its regular CW code practice, and CW, digital and phone bulletin transmission schedule.
Prior to late 1989, W1AW had a presence on 6 meters for all its CW practice, and regular bulletins. Since that time however, the station was absent on 6 meters, with the exception of regular visitor operations and contests.
In addition to providing regularly scheduled transmissions on 6 meters, another goal is to act as a beacon on 6 meters, especially from the Northeast US.
Signal reports will be welcome. A web page that will allow listeners to provide signal reports will be made available after the start date. Reports may also be emailed to W1AW at, w1aw@arrl.org. NNNN /EX

FT-8: I'm not really feeling the magic
By Dan Romanchik, KB6NU
Partly out of curiosity and partly because my friend Jeff, KE9V, shamed me into it, I setup my Signalink interface, downloaded WSJT-X from https://physics.princeton.edu/pulsar/k1jt/wsjtx.html, and started operating FT-8, the latest "shiny object" (as the ARRL dubbed it) from the K1JT team. As you probably know, this mode has really caught on with the digital crowd, and the waterfall is chock full of FT-8 signals. Part of the reason for this is that it has some of the characteristics of JT-65, but is not as excruciatingly slow.


A waterfall display generated by WSJT-X at 7:30 pm, 11/23/17.
Over the past couple of days, I've made 32 QSOs, including a couple of DX contacts. It's been fun to try something new, but to be honest, I'm not really feeling the magic. Part of it is that I don't feel like I'm really doing anything. I downloaded the software, plugged in my digital interface, fooled around with the settings a bit, and then, the computer started making contacts. I have to click a few on-screen controls to make contacts, but even that's a step that could be easily programmed in by the WSJT-X developers. (In fact, I wonder why they haven't done that already!)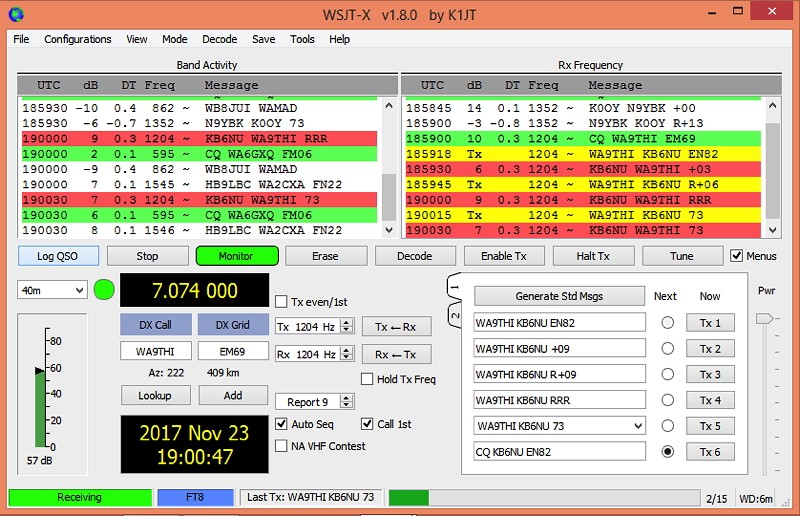 WSJT-X screen shot. The sequence of transmissions in the Rx Frequency window comprises a contact.
Take a look at the screen shot above to see how a typical contact happens. When a CQ appears in the "Band Activity" window, you double click on it. When you do this, the software begins listening for signals on that frequency. In this case, I double-clicked on the CQ by WA9THI. When I double-clicked on the CQ, the program began decoding signals on that frequency and display the transmissions in the "Rx Frequency" window.
Then, I clicked on "Enable TX" and the program began the contact sequence, sending "WA9THI KB6NU EN82." EN82 is my grid designator. This is shown as the first yellow line in the Rx Frequency window. The transmissions that I sent are highlighted in yellow. The transmissions sent by WA9THI are highlighted in red.
The sequence of transmissions shown there comprise a complete contact, and that whole process takes less than two minutes. And, once WA9THI received my first transmission, the sequence is all automatic. You just sit there and watch the two computers talk to one another.
While I can certainly appreciate the thought and the work that went into the design of the protocol and programming to implement it, sitting and watching the computers talk to one another just doesn't excite me. On the other hand, if you're one of those guys who wants to make contacts, but doesn't really want to talk to anyone, than this is the mode for you!
Here are a few more notes about FT-8 operation:
• Not surprisingly, synchronizing your computer with the other stations computer is very important. To do that, you need to get your computer to use the network time protocol (NTP). I failed to do this when I first installed WSJT-X, and while my waterfall was full of FT-8 signals, WSJT-X just wouldn't decode them.

• I got my PC laptop to talk ntp by installing Meinberg NTP software (http://www.ntp.org/ntpfaq/NTP-s-def.htm). Once I did that, WSJT-X magically started decoding transmissions.

• Most of the cool guys seem to be using Meinberg NTP, but there are other options. One of the guys in our club is using a program called Dimension 4, for example.

• Apparently, you don't have to limit your power output as you would with PSK-31. At first, I set my output power to 10 W. I had a bit of success at 10 W, but I expected more. When I asked on Twitter how much power other guys were using, most of them said that they were using more than that.

• For the last couple of sessions, I've been setting my output power to 25 W, and I've been having more success. I've now worked several Europeans on 30m.

• Even at 25 W, my signal reports are more often than not not as good as the signal reports I'm handing out. I haven't figured this one out yet. This doesn't happen to me when I'm operating CW, so I don't think it's my antenna.

• When I'm operating, I write down the calls of stations I've contacted. The reason for this is that while WSJT-X does have a logging function, it doesn't have a log window, so unless you have a great memory, you could end up working guys two or three times a session. That's probably not a big deal since contacts are so quick, but I'd rather avoid doing that if I can.

• WSJT-X works "split." While most contacts take place on the same frequency, a station can call you anywhere in the passband of your receiver and WSJT-X will decoded the signal and begin a contact. This threw me the first time or two that this happened, and I tried to change my transmit frequency to match the other station's. In doing so, I messed up the sequence. I now just let the contact proceed normally, and it works out great.

• When I work the other digital modes, I set my IC-746PRO to the USB-D mode. In this mode, the receive passband is narrower than for working phone. When operating FT-8, however, you don't want to limit that passband. Signals will appear across the entire 2.6 kHz of the USB signal, and if you narrow the passband, you won't be able to work those stations.

• WSJT-X checks the validity of call signs. This afternoon, there was a guy who had typed in his call as "WAMAD" and was calling CQ. WSJT-X wouldn't let me answer that CQ.

• Operating this mode opens up the possibility of working more stations whose call signs spell words and adding those QSL cards to my collection. I have, for example, already worked K1GUY, N4HER, and N5SLY. I'm guessing that these guys don't operate CW.
All told, I've found this to be an interesting foray into a new digital mode. While I'm not feeling the magic that some others seem to be feeling when operating FT-8, it certainly will be a change of pace to operate this mode from time to time. Give it a shot and tell me what you think.
---
Dan, KB6NU, is the author of the "No Nonsense" amateur radio license study guides and blogs about amateur radio at KB6NU. Com. When he's not working FT-8, he teaches ham radio classes and operates CW on the HF bands. You can email him at cwgeek@kb6nu.com.

Reminder: Winter Field Day January 27-28 2018
Purpose: To foster Ham camaraderie, field operation, emergency operating preparedness, and just plain on the air, outdoor fun in the midst of winter for American, Canadian and DX Amateurs. Don't let those winter doldrums keep you locked up in the house… get out and play some radio!!
When: Winter Field Day runs for 24 hours during the last full weekend in January each year from 1900 UTC (2pm EST) Saturday to 1900 UTC (2pm EST) Sunday. For 2017, the dates are January 27th and 28th. Station set-up may commence no earlier than 1900 UTC (2pm EST) on Friday, January 26th. Station setup may consume no more than 12 hours total. How & when you schedule/spend those 12 hours is up to you.
Find WFD rules here: https://www.winterfieldday.com/rules

Hams on the Hunt
A nice positive story, ham radio in the news. Direction finding solves a mystery.
https://www.youtube.com/watch?v=job65gXZSi4

Quote of the Day